Sayings for Engraved Wine Bottles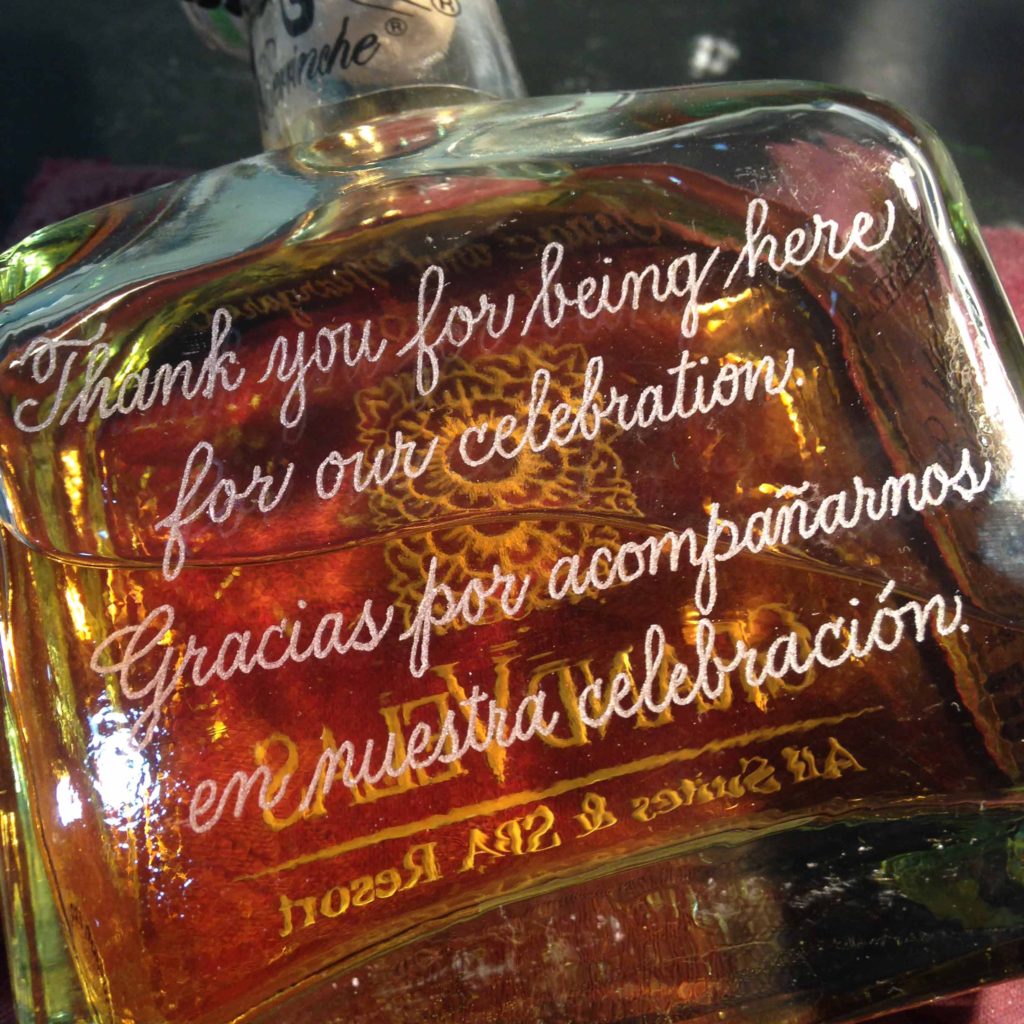 Need an idea for a fabulous personalized gift? How about beautiful hand engraving on wine and liquor bottles!
Wine and liquor are always appreciated as gifts, and they look amazing when engraved! The recipient may even ask you to share the bottle with them!
PenDance offers engraving on wine and liquor bottles for customers who can deliver and pick up from our home studio in west Houston.
You can request a quote for engraved bottles by contacting us! Most orders can be turned around in 5-7 business days.
Below are some ideas for engraved sayings:
Any Occasion
Friends are the wine of life.
Make this day a celebration!
May mirth & merriment fill your days.
For the Bride & Groom
Congratulations ____ & ____ on your engagement. We wish you the best!
____ & ____, As one, may you grow in faith and love.
____ & ____, Wedding date
____ & ____, wishing you all the best in your new life together!
In celebration of the marriage of _____ & _____
Love is composed of a single soul inhabiting two bodies. — Aristotle
Wishing you all the best in your new life together.
Wishing you a lifetime of happiness together
Wishing you every happiness in your new life together
May your love grow more beautiful with each passing year.
Hostess Gifts
Thanks So Much for Everything!
You're Such a Blessing!
Holiday Greetings
Best wishes for a warm and happy holiday season.
Best wishes for a bright and beautiful Christmas season.
Joyous Yuletide Wishes To You and Yours
May joy and contentment be yours… Today and always.
May all the Blessings of the Season Shine Upon You
May Contentment Fill Every Corner of Your Christmas.
New Baby
To Hug and to Hold From This Day Forward.
Welcome to the Night Shift…the Hours Are Lousy but the Benefits are Great!
Congratulations on the Sweet New Addition to Your Family
Mother's Day
World's Best Mom
Greatest Mom Ever!
Happy mother's day with all my love
Your love has helped make the world such a wonderful place!
Thinking of you with love today and always.
Father's Day
World's Best Dad
Greatest Dad Ever!
Thank you for making family such a beautiful word!
With love to you – happy father's day!
Thanks for giving me the finer things in life… Your time, your care, and your love!
Valentine's Day
Two Hearts…One Love
The joy you bring to everything always warms my heart.
To the world you are someone, but to someone you are the world.
Love is the bridge between two hearts.
Birthday Greetings
May the simple joys of life fill your special day!
Wishing you a wonderful birthday
Happy birthday will all my love
May you enjoy every day of the coming year.
Wishing you a year full of love & joy
Anniversary
May you always be each other's greatest gift! Happy anniversary!
Wishing lots of happiness to two special people on their anniversary.
Like a fine wine, our love grows richer with each passing year!
All my love — to the one who shares my life
Always and forever…that's how long i'll love you
You've made every moment worth remembering
Friendship
Thinking of you and the friendship we share.
Your thoughtful ways have made my days more bright and beautiful.
Thank You
Especially for you, with heartfelt gratitude.
A note to thank you for the beauty you bring into the world.
Our sincere thanks for all your good wishes and very lovely gift.