How to Order or Request a Quote
Contact us to fill out a short form to tell us about yourself and the due date for your envelopes. We will get back to you ASAP (almost always same day if it's Monday – Friday) to confirm our availability and get more details about your project.
Ready to work with us? Then you can Schedule an Appointment on our online appointment calendar!
Computer calligraphy services are almost always available, but hand calligraphy sometimes books up weeks in advance.

Hand Calligraphy
Click the links below to view traditional styles (vintage, elegant, classic) and modern calligraphy styles (whimsical, artsy & trendy).
Computer Calligraphy (Digital Printing)
Click the links below to view popular classic fonts and contemporary fonts
Custom styles and layouts are available!
If you don't see a style or font that looks similar to your invitation, we can search for one or Maureen can emulate the style in hand calligraphy.
We can also provide a custom envelope layout with hand-lettered names combined with computer-printed addresses!
TIP: You can save money by using hand calligraphy on the envelopes for your family, the bridal party, and guests who appreciate handwritten details, then selecting high-quality computer printing for the rest of your guests! Just sayin'.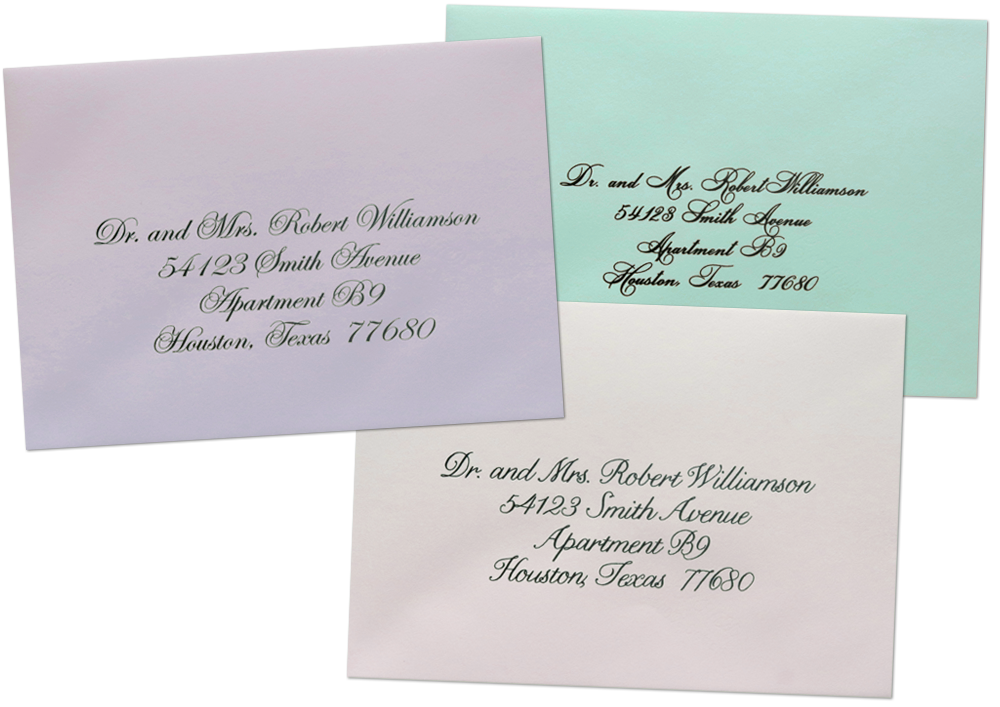 Addressing Process
After receiving confirmation of our availability, please prepare your address list in Word or Excel, then email us the list. You can request a free copy of our Addressing Etiquette Guide by entering your email address in the Free Guide for Brides to Be box in the sidebar.
Plan to provide a minimum of 10% more envelopes than addresses, with no fewer than 10 additional envelopes. For metallic-coated or dark envelopes, order 15% more.
We'll schedule an appointment for you to drop off your envelopes. You are also welcome to ship or courier them to us if that's more convenient.
After submitting your address list to us in Excel (preferred) or Word label format, we will email you a proof list which will include the details of your order in the header information. We won't begin your envelopes until we receive email approval from you that your list is correct and ready to go.
If you would like to see a sample envelope before we begin, please let us know and we'll email you a photo of the first envelope for approval.
You can add names or make changes to your list by emailing us ONLY the corrections, not the entire list again. If we have to process additional lists after the first one, administrative fees will apply.
We'll call or email you when the envelopes are ready for pick up or shipping, along with the balance due.
All courier and shipping costs are the responsibility of the client.
Payment is due when the order is picked up or before shipping. If someone else is picking up your order, make sure they have payment available, or that you have called us beforehand with your credit card information. Our policy is that no orders are released until payment is received.
If you prefer, we can keep a few blank envelopes on hand in case of any last minute changes!