Modern Calligraphy Class – Houston, TX
"I enjoyed the class very much. Maureen showed that she really cared about her students learning…She exhibited a quiet, humble confidence and sweet sincerity. She was very prepared and well organized. – Susan Little"
Maureen is now publishing a digital magazine for calligraphers and hand lettering artists called Calligraphy Crush Magazine!
Each magazine issue features tutorials, product reviews, behind-the-scene process articles, artist interviews, calligraphy business tips, reader gallery, and more!
Sign up to be notified of future calligraphy and handwriting workshops!
I offer calligraphy and handwriting workshops for groups of 12-30 students in Houston, usually about once per quarter:
Modern calligraphy
Copperplate calligraphy
Italic handwriting
American Cursive handwriting
If you would like to be notified about future workshops and online classes, please fill out the form below to be added to our email list!
Below is a Before & After sample from a previous handwriting class. See how her legibility and letterforms improved by the end of class!

Modern Calligraphy Workshop for Beginners

MODERN CALLIGRAPHY is all the rage now!
You see it everywhere — on wedding invitations, hand-addressed envelopes, art prints, chalkboards, signage in your favorite craft store, and more.
If you would like to learn how to write in this creative, whimsical style, then join Maureen Vickery, a professional calligrapher and hand lettering artist, as she teaches the basics of MODERN CALLIGRAPHY using pointed pen. No calligraphy experience is necessary to attend!
During this class you will learn:
the characteristics of modern script
proper techniques for using your tools and supplies
detailed steps on how to write each letter
how to change elements of your writing to create new styles
how to practice (after class is over) to achieve the results you want
Supplies (included with the class):
1 pen holder
2 pointed pen nibs
small jar of black ink
Borden & Riley Marker Paper, 9″x12″
modern script alphabet exemplars (shows how each letter is formed)
guideline sheets for practice
resource list for further study
practice tips
After the workshop is over, you won't be left on your own! Students can email Maureen to ask questions about modern calligraphy and to receive one free critique (after practicing a few weeks first!).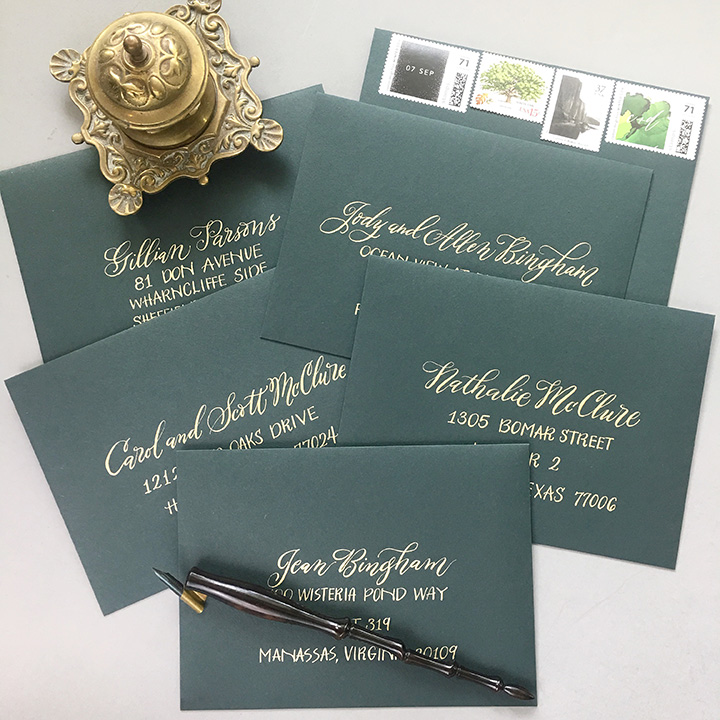 Handwriting Masterclass for Ridiculously Good-Looking Letters

Penmanship does not have to be a lost art!
Join Maureen Vickery, a professional calligrapher, co-host of the #RockYourHandwriting group on Facebook, and publisher of Calligraphy Crush Magazine, as she teaches you how to refine your handwriting style to be artistic, legible, and beautiful!
By the end of class you will understand the "rules" of attractive, legible handwriting and have a practice plan for achieving significant improvement in only 30 days.
You will also learn how to modify your handwriting style to suit any occasion – thank you notes, place cards for your next holiday dinner, jotting ideas in your journal, etc.
During this class you will learn:
how letters are formed for optimal writing speed and legibility
proper writing ergonomics
the rules of attractive, legible handwriting
how to change elements of your handwriting to create new styles
how to practice to achieve the results you want
Supplies and Handouts (included in ticket price)
A gel pen and ballpoint pen
Borden & Riley Marker Layout paper, 9″ x 12″
Guideline sheets
Italic handwriting exemplars (shows you how to form each letter)
30-day practice plan
Penmanship Practice
We'll use the Italic alphabet as the foundation for practicing proper penmanship. This alphabet has been around since the Renaissance, and it's incredibly versatile. It looks beautiful either printed (unjoined letters) or cursive (joined letters).
You'll receive a packet of practice worksheets as well as a resource listand tips for further study. All supplies will be provided. However, if you have a favorite fountain pen or gel pen that you'd like to use during class, feel free to bring it!
A bonus for taking this class is that you will learn fundamental calligraphic principles that will give you lots of "hooks to hang things on" should you decide to branch out and take calligraphy classes later on!